Home
Continuing Education Approvals
Pennsylvania Continuing Education Credentials:
Structural Pest Inspection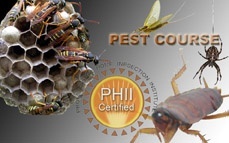 Pennsylvania does not license Pest Inspectors, however many banks require inspectors to have their Pest Applicator's license before they will contract with them.
To maintain pesticide certification, applicators must accumulate update training at three-year intervals for which recertification credits have been approved. Regardless of the category of certification, each applicator must accumulate six core credits. The number of category-specific credits required for recertification varies from category to category.
The PHII Structural Pest Inspection Course has been approved for:
Category - Credit
11 - Household / Health Related - 10 credits.
12 - Wood Destroying Pests - 10 credits.
18 - Demonstration and Research - 10 credits.
23 - Park/School Pest Control - 10 credits.
Categories 11, 12, 18, 19, & 23 require 10 training credits for each three year license period.
Course Number:
0021NQ